Of the brave frontliners in this COVID-19 pandemic, a stray dog named "Chi-Chi" stands out for obvious reasons: The furry, four-legged asPin (or asong Pinoy) is Manila's first animal frontliner. She joins Barangay 739 officials in their daily rounds and distributing relief goods. Her ID, signed by the head of the barangay, describes as her a "barangay dog frontliner." 
Chi-Chi is one of the countless examples of why it pays to "Adopt, Don't Shop" our pets. Animal shelters such as the Philippine Animal Welfare Society (PAWS), Compassion and Responsibility for Animals (CARA), Hound Haven (which cares for and rehabilitates retired military and contract working dogs), and the Philippine Animal Rescue Team (PART) have enough abandoned and neglected dogs and cats that are only too eager to give and receive love.
Shelter pets are more affordable than those purchased from a responsible breeder. And in a shelter, dogs and cats come in all shapes, sizes, and colors to choose from! 
On National Adopt a Shelter Pet Day this Thursday, April 30, consider making room for a shelter pet in your home and heart.  Check out these celebrities who welcomed shelter pets into their lives:  
Also Read: LOOK: These dogs are also serving as frontliners during the quarantine!
Heart Evangelista-Escudero and Panda
The Kapuso celebrity, actress, artist, animal activist, fashionista, and wife of Sorsogon Governor Francis Escudero came upon the black-and-white asPin in 2015 through her father, who rescued the dog on the streets of Batangas. Since then, Panda has been living the high life: She's been decked in a Hermes scarf and Ralph Lauren tee, stays warm on a Hermes blanket, owns a Goyard collar, and is the star of a viral vlog. 
Chris Evans and Dodger
It was while filming in a kennel for the movie Gifted that the actor, best known for playing Captain America, fell in love with a brown and white puppy that he named Dodger. The feeling was mutual. In a 2018 video, the shelter pet takes to Chris instantly, wagging his tail and licking his hand from behind a cage.  "I knew right away that he was coming home with me," tweeted Chris. "Rescue dogs are the best dogs!" 
Carla Abellana and Wing and Fly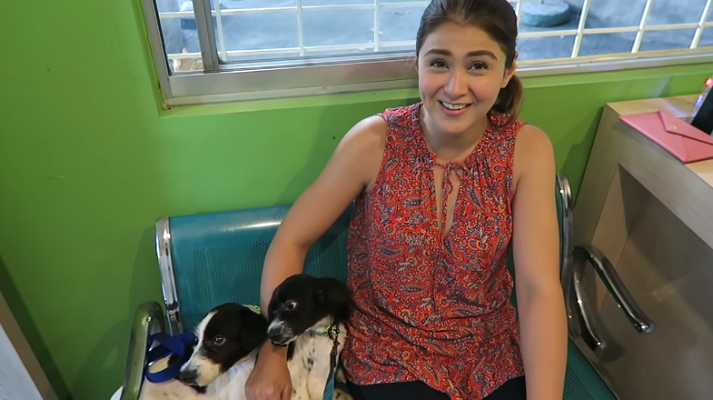 This Kapuso celebrity was already the owner of the Jack Russell terrier Patches; what compelled Carla to adopt two more dogs? The actress and animal lover took in the black-and-white Wing and Fly from PAWS because their eyes reminded her of her late pet, the Corgi Sunny, who died in 2018.  The shelter pets were rescued from their original owner, who passed away last year. A vlog details how Carla came upon the inseparable duo. 
Jesse Eisenberg and Mr. Trunkles
Self-described cat lover Jesse goes everywhere with his black-and-white shelter pet, whom he found "eating out of a dumpster in Astoria, Queens," he explained in this hilarious video. Jesse, who starred as Facebook founder Mark Zuckerberg in The Social Network and Lex Luthor in Batman v Superman, has appeared in campaigns promoting the adoption of cats—including one he made himself. Two years ago, the celebrity actor was attending the Shanghai International Film Festival in China when the sight of three homeless kittens caught his eye. Within minutes of posting a video about it, the kittens were adopted.