Can a Filipino invent a cure to COVID-19? Don't discount it. At a time when COVID-19 tests kits were not only expensive but available in limited quantity, a team of scientists headed by Dr. Raul Destura came up with a more affordable alternative, approved by the Food and Drug Administration on March 10. The Department of Science and Technology is also looking into virgin coconut oil as a supplementary treatment for patients with moderate to severe symptoms of COVID-19. 
Given Filipinos' innate creativity and resourcefulness, it's no surprise that Pinoys are behind a number of inventions—all of them out of this world and many very much a part of people's lives.  Read on to know four of them!
Videophone by Gregorio Zara
Before Zoom, Skye, and video calls on Facebook, Viber, and other platforms, there was the videophone—or "photo phone signal separator network"—by the Batangueño scientist Gregorio Zara. He patented it in 1955, five years before AT&T produced a version called "picturephone." The scientist was also the brains behind an airplane that ran on plain alcohol and a propeller-cutting machine, both invented in 1952.  
Erythromycin by Abelardo Aguilar 
Then working as a researcher for the US pharmaceutical company Eli Lilly, Abelardo Aguilar chanced upon the bacteria streptomyces erythraeus in a soil sample from his backyard. The company managed to isolate erythromycin from the sample and had it patented in 1953. But the antibiotic was already commercially available a year earlier under the brand name Ilosone, after Iloilo, source of the soil sample and Abelardo's hometown. Also previously known as Ilocytin, erythromycin is used to treat respiratory tract infections, urinary tract infections, and sexually transmitted diseases. 
SALt Lamp by Aisa Mijeno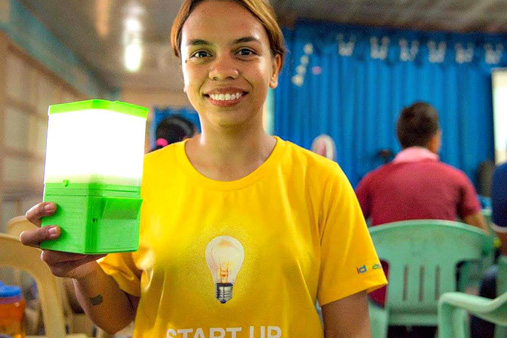 Two tablespoons of salt and a glass of tap water are all it takes to light up the metal-air battery of the Sustainable Alternative Lighting (SALt) Lamp, which Aisa Mijeno created for Filipinos living in coastal areas and remote barrios. The engineering professor was inspired to invent the SALt Lamp after living with the Butbut tribe in Kalinga, who relied on kerosene lamps (a potential fire hazard) for light. The SALt Lamp came to light, so to speak, in the Asia-Pacific Economic Cooperation (APEC) Summit in 2015 when then US President Barack Obama lauded her efforts in a forum. 
Electrifilter by John Paul Santos and Christian Sta. Romana
Imagine a device that converts water pollution into electricity and clean water: that's the beauty of the Electrifilter, a 2015 invention by two engineering students from the Polytechnic University of the Philippines. Stacked up against other inventions from all over the world in Go Green in the City, a global challenge to business and engineering students to come up with green innovations, the Electrifilter placed third in the Paris, France, event, beating counterparts from the US, Japan, and Australia. 
---
Text by Joy Rojas.
Subscribe now to My Pope Philippines for your daily dose of inspiring stories!