Experts have constantly reminded everyone that the most susceptible to the Coronavirus Disease 2019 (COVID-19) are the elderly, 60 years old and above, and those with co-morbidities like diabetes, hypertension, and kidney ailments. But the younger ones are still not safe from contracting the deadly disease causing worldwide panic.
One of the younger ones who contracted the disease is a 16-day-old baby from Quezon City. The baby boy was confined at the National Children's Hospital (NCH) and stayed there for 11 days because of the coronavirus.
Also Read: Lung Center of the Philippines reports zero COVID-19 cases among personnel
Fortunately, the baby is now free from the virus! In a Facebook post by the Department of Health (DOH), they thanked the frontliners who "tirelessly took care of the neonate."
"The DOH applauds our valiant healthcare team for this feat! We at the DOH commits to provide the needed health commodities and personal protective equipment as our health facilities accept patients of various ages," the DOH said.
Also Read: Army reservist inspires peaceful confrontation amid COVID-19 lockdown
Infected Infants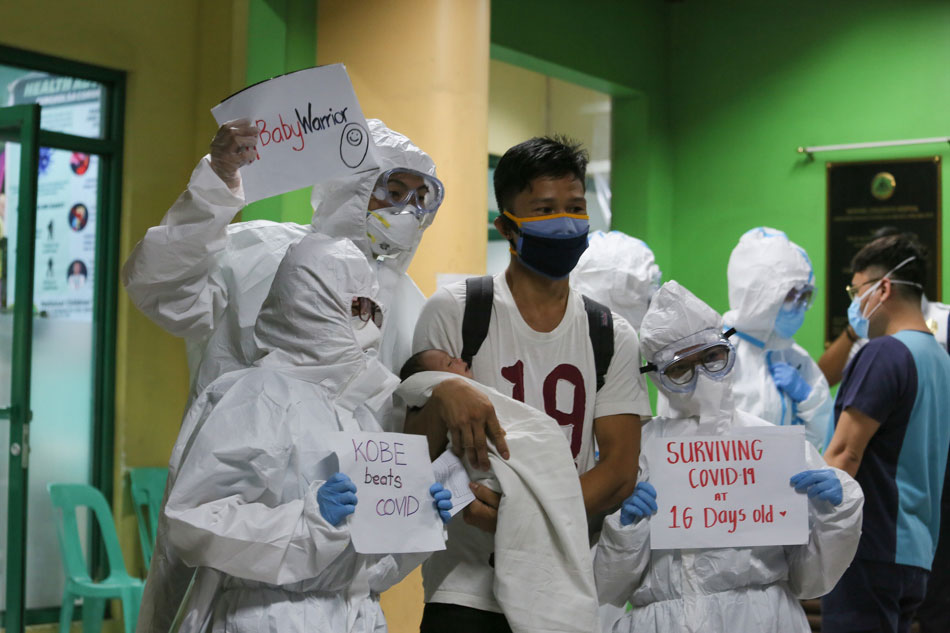 As of writing, there has been 25 confirmed COVID-19 cases among babies aged 1 and below. In an Inquirer interview with DOH Undersecretary Maria Rosario Vergeire, of the 25 infants, six have already passed away. Currently, the youngest COVID-19 patient in the country is a 9-day-old newborn from Cebu City.
According to the undersecretary, there is still no evidence that a mother could pass on the virus "vertically" during pregnancy or through breastfeeding. The infants most likely contracted the virus during their stay in the hospital.
"Most of these cases, apparently ay paglabas ng bata ay baka doon nakuha ['yung virus]. 'Yung mga bata paglabas may pulmunya, so nung tinest positive siya," said Undersecretary Vergeire.
In the Philippines, there are currently 8,212 confirmed cases, in which 1,023 have recovered and 558 have died.